Special Forces
US Army Special Forces, sometimes known as 'the Green Berets', are a versatile army unit made up of 'quiet professionals'
Special Forces - Roles
unconventional warfare
foreign internal defense (FID)
special reconnaissance
direct action
counter-terrorism
counter-proliferation
information operations
Special Forces - Organization
The 1st Special Forces Regiment / U.S. Army Special Forces Command (Airborne) is a component of United States Army Special Operations Command (USASOC), which is itself part of United States Special Operations Command (USSOCOM). The 1st Special Forces Regiment is organized into Special Forces Groups (SFG), each focused on a specific geographic area, or Area Of Responsibility (AOR). The regular Special Forces groups (Active Duty) are:
The 2 Army National Guard (ANRG) Special Forces groups are:
19th Special Forces Group (Airborne)
AOR - South East Asia & Pacific
photo / more info : 19th SFG(A)


20th Special Forces Group (Airborne)
AOR - Latin America, Central America, and the Caribbean
photo / more info : 20th SFG(A)
Special Forces Insignia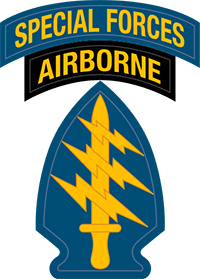 Special Forces Motto
De Oppresso Liber
"To free from oppression"
Special Forces Creed
"
I am an American Special Forces soldier. A professional!

I will do all that my nation requires of me.

I am a volunteer, knowing well the hazards of my profession."

I serve with the memory of those who have gone before me...
"
read the rest of the Special Forces Creed
Featured Special Forces Photo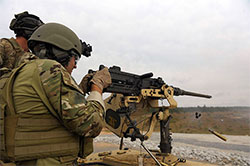 U.S. Army Special Forces Organization - Chart
Special Forces Group Organization
Each Special Forces Group consists of :
Headquarters & Headquarters Company (HHC)


Group Support Battalion
supports the Special Forces Group HHC and consists of 3 companies, providing logistical, intelligence, medical, and signals support.


4 Special Forces Battalions (1st, 2nd, 3rd, 4th), each comprising:



1 Operational Detachment-Charlie (ODC)
The Special Forces Operational Detachment Charlie (SFOD-C) is the Battalion Headquaters and is responsible for command and control of the Special Forces Battalion.


3 Special Forces Companies (A,B,C), comprising:



6 Operational Detachment-Alpha (ODA).
ODAs are usually 12-man units, lead by a captain.. The ODA is the primary fighting force of the Special Forces. Each SF Company usually contains 6 ODAs.

more info : Special Forces ODAs


1 Operational Detachment-Bravo (ODB)
A SF Company usually contains one ODB, of around 12 men, which provides support and command and control to the SF Company's ODAs. ODBs provide support in:

training
intelligence
counter-intelligence



more info : Special Forces ODBs



1 Battalion Support Company
The Battalion Support Company consists of signallers, mechanics, riggers, cooks, intelligence, personnel services, chaplain, legal and others, who support the Special Forces Battalion.



The Military Intelligence Detachment (MID) provides intelligence to the Special Forces Battalion. Operational ogranization may vary but will typically consist of:



Analysis and Control Team
Counter Intelligence / HUMINT Section

HUMINT Collection Team
CI Analyst

SIGINT Section

Technical Control and Analysis Element (TCAE or SOTB)
6 Special Operation Teams "Aplha" (SOTAs)
4-man SOT-As attach to Special Forces ODAs in order to gather signals intelligence



1 Special Forces Company within a Special Force Group is designated as a CIF (Commander's In-Extremis Force) Company. The CIF Company is focused on Direct Action missions.
Special Forces - Video
Officially-released footage of 3rd Special Forces Group soldiers in action in Afghanistan...
more special ops videos
Special Forces - Selection & Training
Soldiers wishing to become a Green Beret must pass the Special Forces Assessment and Selection (SFAS) course before undergoing the Special Forces Qualification Course.

more info : Special Forces Selection

more info : Special Forces Training
Special Forces - Weapons
Special Forces soldiers carry a range of carbines, pistols, machine guns and other weapons.
more info : Special Forces Weapons
Special Forces - Operations
The Cold War
The 10th Special Forces group prepared for a Soviet invasion of Western Europe. In such a scenario, the Green Berets were to carry out guerilla operations.


1961 - South East Asia
Special Forces acted as advisors to indigenous forces, first in Laos, then in Vietnam. Throughout the Vietnam war, the Green Berets trained and fought with the South Vietnamese forces, usually operating from fire bases set up by themselves


1970 - Son Tay
Green Berets attempted to rescue American Prisoners of War (POWs) from a North Vietnamese camp


1980s - El Salvador
American Special Forces trained Salvadorians to fight against communists


Late 80s - Columbia
Special Forces carried out counter-drug and counter-terrorism operations.


1989 - Panama - Operation Just Cause


1990/1991 - Operation Desert Shield / Desert Storm
Special Forces help train coalition forces as part of the defence of Saudi Arabia (Desert Shield). During the offensive stage of operations (Desert Storm), small 3-man ODAs carried out tactical reconnaissance operations in Kuwait and Iraq, watching Iraqi troop movements. Green Berets also provided troops for Combat Search and Rescue (CSAR) operations.


2001 - Afghanistan - Operation Enduring Freedom
Special Forces ODAs were among the first US military units to enter Afghanistan, October 2001. Worling closely with CIA teams, the Northern Alliance and the 160th SOAR, they formed Task Force Dagger.
more info : Special Forces - Task Force Dagger


2003 - Iraq - Operation Iraqi Freedom
During the US-led invasion of Iraq, Special Forces units, working with Kurdish militia, carried out operations in the North of the country. Since then, Special Forces have created, trained and operated alongside Iraqi special operations units in the fight against the insurgency.
---
Special Forces Photos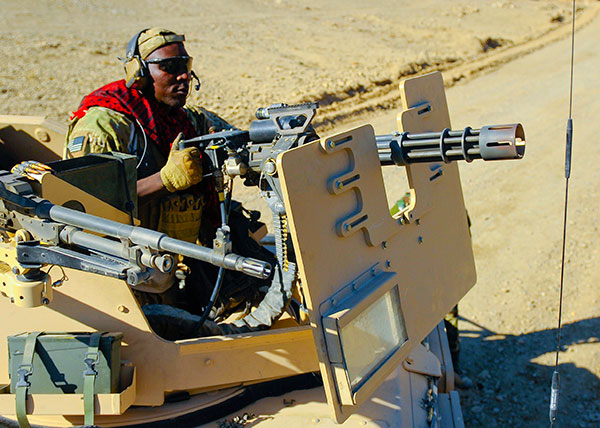 A Special Forces soldier mans a minigun while on an operation in Afghanistan.
ISAF photo by U.S. Air Force Staff Sgt. Joseph Swafford/released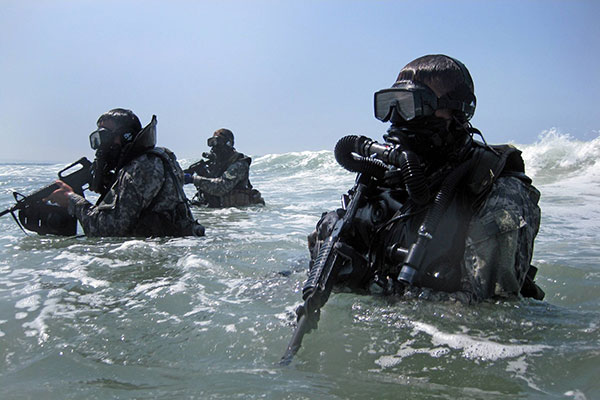 Green Berets training as combat divers. Each Special Forces Comany includes a 12-man ODA that specializes in SCUBA and small boat operations.
US DoD Photo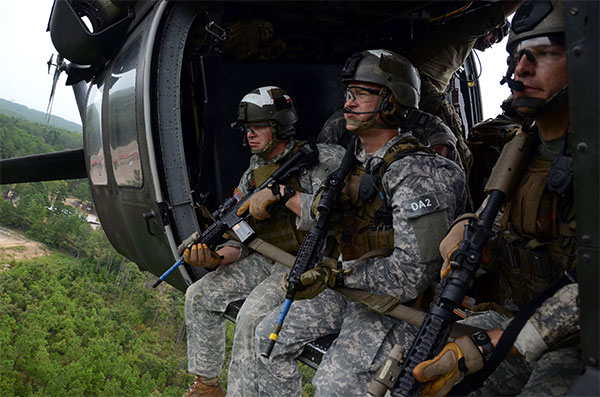 Special Forces operators ride in a MH-60 Black Hawk helicopter during a Special Forces Advanced Reconnaissance, Target Analysis, and Exploitation Techniques Course, (SFARTAETC). Special Forces CIF Companies specialize in direct action missions.
US DoD Photo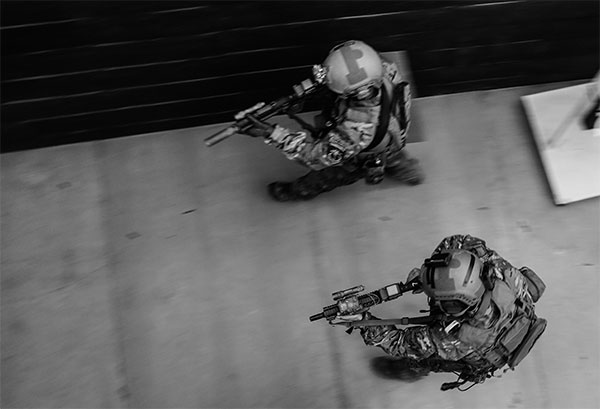 Green Berets train in close quarters battle (CQB). Special Forces soldiers are highly trained in CQB techniques.
US DoD Photo
Special Forces Resources
Photos
Videos