Mark V Special Operations Craft (MK V SOC)
The MK V Special Operations Craft's primary role is the insertion and extraction of Navy SEALs or other U.S. Special Operations Forces. MK Vs are are operated by SWCC Special Boat Teams. The MK V can also be used a coastal patrol and reconnaissance platform.
note: the MK V SOC has now been retired from U.S. Navy service.
Mark V Special Operations Craft Features:
The MK V SOC features an angled design which results in a low radar signature. The craft can carry up to 4 Combat Rubber Raiding Craft (CRRC) + their outboard engines, enabling the Mark V to act as a mothership, parking off-coast and delivering and collecting teams of SEALs to and from the shore. The vessel features a ramp at the stern which facilitates the rapid launch/recovery of CRRCs. The MK V SOC can also act as a launch/recovery platform for SEAL swimmer delivery vehicles. UAVs (unmanned aerial vehicles) can also be launched, operated and recovered from the MK V.
MK V SOV Equipment
Radar
GPS navigation
IFF (identification Friend or Foe) gear
VHF/HF/UHF/FM Net & SATCOMM
MK V SOC Weapons
The craft has provisions for the mounting of the following weapons systems: (5 mounts)
M2 .50 machine guns (single or twin mounts)
M240 7.62mm belt-fed machine guns
MK19/MK47 40mm grenade launchers
M134 7.62mm Miniguns
MK88 chain gun
MK48 25mm guns
For added defence against airborne threats, FIM-92 Stinger missiles may also be carried on the MK V.
MK V SOC - Specifications
Crew
5 Crew
Capacity
Crew + 16 SEALs + mission equipment
Engines
2 x 2285 HP MTU 12V396 TE94 engines
Waterjets
2 x KaMeWa K50S Waterjets
Dimensions
Length - 82 ft
Height - 17.5 ft
Draft - 5ft
Weights
57+ tons displacement
Max Speed
47-50 knots
Range
550+ nautical miles
Armament
m2 .50 machine guns
m240 machine guns
m134 miniguns
Mk19 40 40mm grenade launchers
Avionics
GPS navigation
Radar
LORAN
Secure radio communications (UHF/VHF/HF/SATCOMMs)
IFF transponder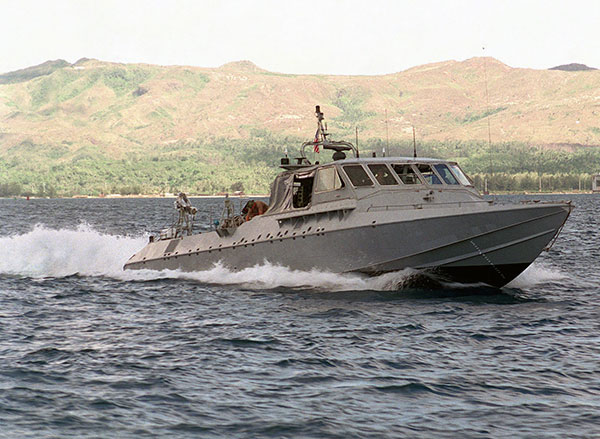 U.S. Navy photo by JO1 CRAIG P. STRAWSER, USN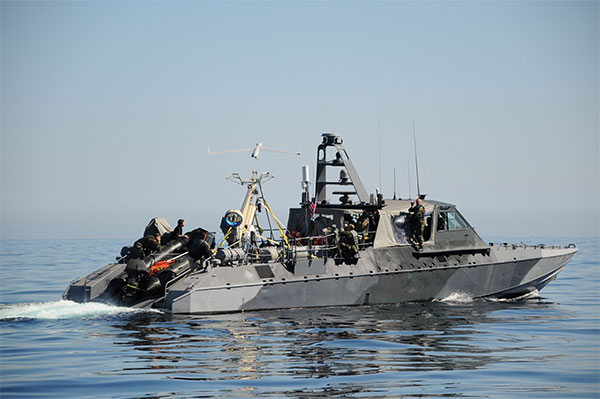 SWCCs launch a Scan Eagle drone from a Mark V SOC. A zodiac inflatable can be seen on the boat's rear ramp. A MK V SOC can transport, launch and recover up to 4 such inflatables.
U.S. Navy Photo
MK V SOC Resources