Special Reaction Team
United States Marine Corps (USMC) Special Reaction Teams (SRT) are elite specialized units with a capability similar to that of civilian S.W.A.T. units. They are formed from specially-trained Military Police officers of the Marine Corps' Provost Marshall's Office (PMO).
Special Reaction Team - Role
The role of the Special Reaction Team is to respond to crisis situations at the USMC installation they are stationed. The type of situations that may call for the SRT to be deployed include:
terrorist attack
hostage situations
barricaded incidents (with or wihtout hostages)
VIP protection (as a response force)
Special Reaction Team - Organization
SRTs are typically no smaller than 9 men. In order to cover all contingencies, an installation may train enough men for 2 9-man SRTs. A typical 9-man Special Reaction Team is made up of:
Entry Element
Cover Element / 2nd Entry Element

2 x Marksmen
2 x Observers / Recorders
SRT operators cross-train in order to be able to take on any of the other roles in the team.
Special Reaction Team - Training
As with SRTs from other branches of the US military, USMC SRTs attend the US Army's Military Police Special Reaction Team course at the US Army Military Police School, Fort Leonard Wood, MO. This is a 2-phase traing course:
phase 1 focuses on the skills required of a Special Reaction Team entry team member.
phase 2 focuses on the skill set employed by a Special Reaction Team marksman/observer
Special Reaction Team - Weapons
Typical weapons used by USMC SRTs are: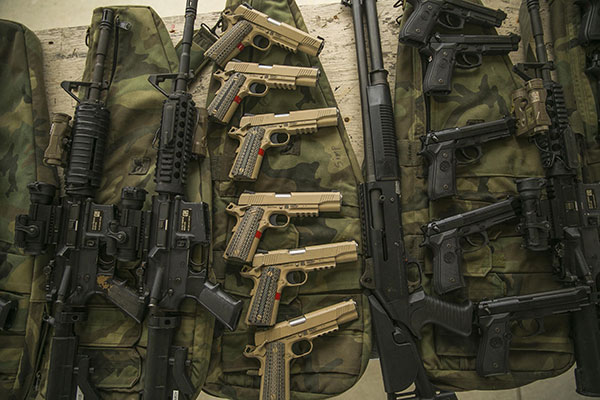 photo showing a USMC SRT arsenal: M4 carbines, M1014 shotguns, M9 and M45 pistols
(click image for fullsize view)
U.S. Marine Corps photo by Cpl. Royce Dorman/Released
Special Reaction Team - Video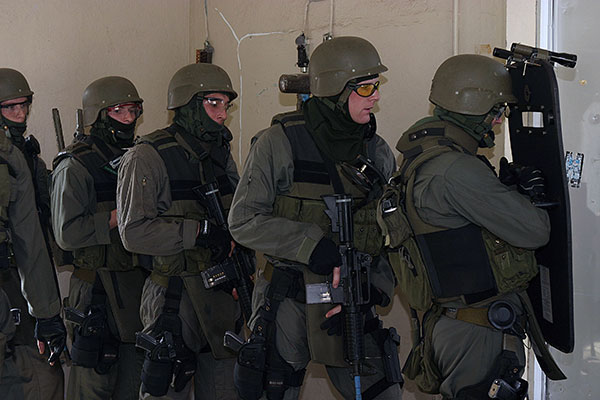 Members of a USMC Special Reaction Team stack up in preparation to enter a room during an exercise. Like civilian S.W.A.T. teams, SRTs use a selection of specialized equipment such as ballistic shields and stun grenades. SRT personnel wear kevlar helmets, fireproof coveralls and body armor.
DoD photo by LCPL SARAH M. HARMAN, USMC
Special Reaction Team Resources
SRT photos